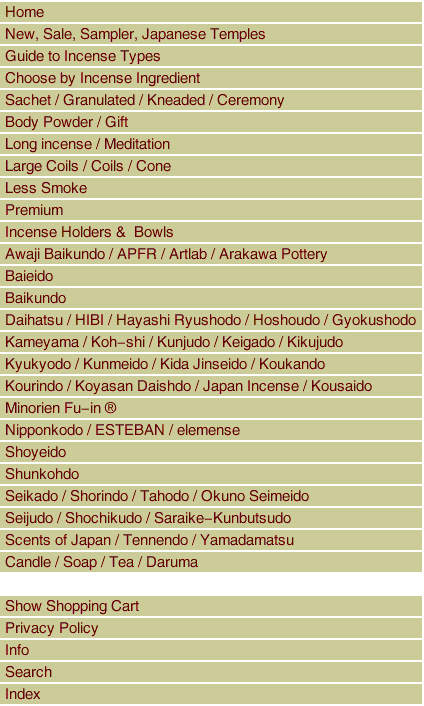 JapanIncense.com is the e-commerce website for Japan Incense. JapanIncense.com was created to serve English-speaking customers in the United States, US Territories and Possessions, and in Canada, who want the finest in Japanese and other exotic asian incense and meditation accessories. Sorry, we cannot ship outside of these locations.

September 2006: Established www.JapanIncense.com e-commerce website
July 2007: Opened Japan Incense retail store, 2456 Chestnut Street, San Francisco.
September 2008: Closed Japan Incense retail store, to begin moving.
December 2008: Re-opened retail store, now named "Kohshi", in Japan Town, San Francisco.

Business type: E-commerce

Business License: San Francisco, CA License # 446812

Japan Incense (mailing address only):
Japan Incense
2370 Market Street #321
San Francisco, CA 94114 USA


If you wish to view the products shown on JapanIncense.com, please come visit our display at our Kohshi retail store at this physical address:


Kohshi retail store address:
Kohshi
1737 Post Street, Suite 335
San Francisco, CA 94115 USA

Japan Incense Customer Service Phone:

Local: (415) 931-7002
Fax: (415) 931-4002

Hours of Operation: 11 AM - 7 PM Pacific Time, 6 days a week (Wednesday through Monday). We are closed on Tuesdays.
Contact email: info@japanincense.com

Principal: Jay Cowan (CEO)
Principal: Kotaro Sugimoto (President)


Copyright 2023, Japan Incense. All rights reserved.