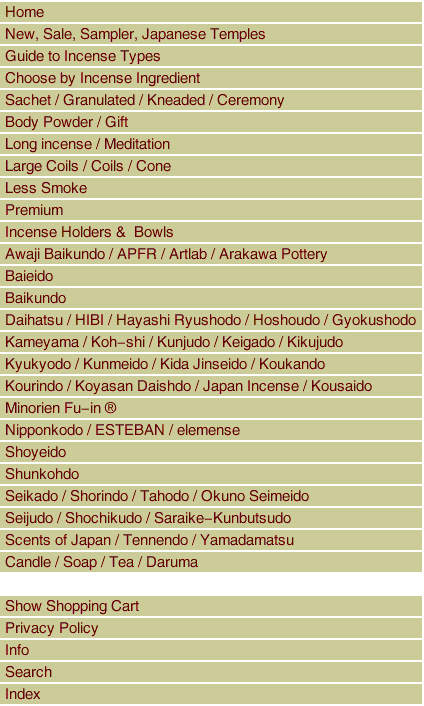 IMPORTANT CORONA VIRUS UPDATE!
We want to thank all of our great customers for their orders and support of JapanIncense.com. We very much appreciate your wonderful emails and comments encouraging our continued business.


We will continue to receive and process your online orders, however we may be delayed a few days getting your shipments out, due to some items going temporarily out of stock. Due to the COVID-19, our re-supply shipments from Japan have been dramatically delayed.

We will notify you by phone or email if any items in your order are temporarily out of stock, plus provide you a rough approximation of when they may arrive in our warehouse. We will offer to, in the interim, ship our in-stock products to you, and follow up with a second shipment at no added cost of the remaining item(s) when we receive them.

PLEASE NOTE THAT ALL SHIPMENTS MAY BE DELAYED BY SEVERAL DAYS GETTING TO YOUR ADDRESS. US Postal Service First Class and Priority Mail packages and especially UPS Ground are affected.


Thank you so much for your support and hope that all of you can stay healthy and get through these serious times!
Copyright 2023, Japan Incense. All rights reserved.