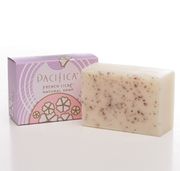 Perfumed in a traditional French style, this fresh scent conjures spring with a blend of Lilac, Magnolia Leaves, Heliotrope, Ylang Ylang, Hyacinth and subtle notes of Nectarine. This is truly the best Lilac ever.

French Lilac - Natural Soap (Size: 6 oz)
Moisturizing, rich-lathering, sulfate-free and bio-degradable, Pacifica Natural Soaps are handmade with a proprietary vegetable-glycerin base, herbs and Pacifica's signature perfume blends with essential and natural oils. Precious and innocent in French Lilac, these are fresh, invigorating and clean.
INGREDIENTS:
Pacificafs French Lilac Natural Soap is handmade using a proprietary biodegradable, vegan, vegetable oil and glycerin soap base, ground almond meal, and Pacificafs own fragrance blend with ylang ylang, oakmoss and heliotrope essential oil. No parabens, animal testing, animal ingredients or artificial colors.
(Photo and texts courtesy of Pacifica)