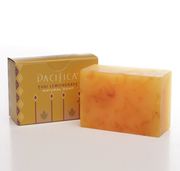 In this creative, exotic and spirited blend, bright notes of grassy lemon intermingle with ginger and sit atop slightly spicy and earthy undertones for a warm, exotic and fresh fragrance.

Thai Lemongrass - Natural Soap (6 oz)
Moisturizing, rich-lathering, sulfate-free and bio-degradable, Pacifica Natural Soaps are handmade with a proprietary vegetable-glycerin base, herbs and Pacifica's signature perfume blends with essential and natural oils. Intense and spirited in Thai Lemongrass, these are fresh, invigorating and clean.
INGREDIENTS:
Pacifica Thai Lemongrass Natural Soap is handmade using a proprietary biodegradable, vegan, vegetable oil and glycerin soap base, calendula, and Pacificafs own fragrance blend with ginger and lemongrass essential oils. No animal testing, animal ingredients or artificial colors.

.(Photo and text courtesy of Pacifica)
SORRY, Thai Lemongrass - Natural Soap HAS BEEN DISCONTINUED BY PACIFICA AND IS NOW OUT OF STOCK.