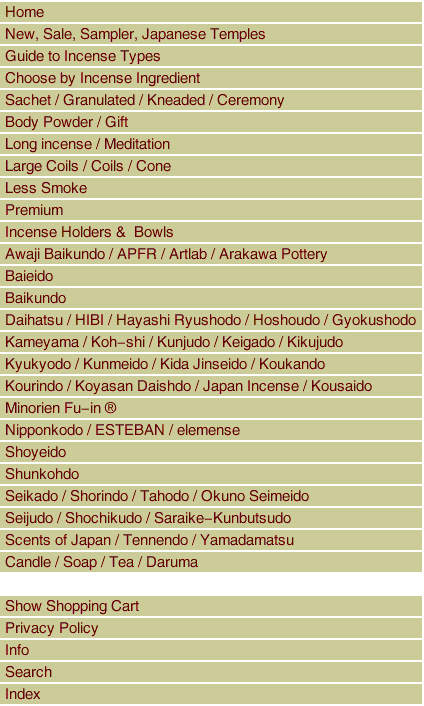 US Postal Service Shipments Within the Continiental USA:
COVID-19 SHIPPING DELAYS We are sometimes seeing dramatic delays in the shipping times for the packages we mail.
US Postal Service (USPS) packages are being delayed from a few days, to as much as an additional week, added to their normal 2-5 day shipping times. We apologize but we are unable to control this, so please consult your online USPS tracking information.
UPS Ground shipments are always much slower and more expensive than USPS. Their normal 2 day local, to 7 day cross-country, shipping times may see several days added to that by the COVID-19 impact. Please use the UPS.com website to track your shipment.

If you have a very urgent shipment, and are not concerned about a very high shipping cost, please contact us at orders@japanincense.com so we can assist you and offer some options.


US Postal Service Shipments to APO and FPO (these are Pre-COVID-19 estimates):
US Postal Service Shipments to Canada (these are Pre-COVID-19 estimates):
We ship packages to Canada by USPS First Class International Mail. Normally, orders shipped from our San Francisco office on Monday through Friday will arrive in 5 - 10 days at Canadian addresses. But expect a significant delay due to COVID-19 and USPS delays. Allow a little more time for weekends and holidays. The major cause of any delay will be due to US or Canadian customs inspections. Prior to COVID-19 it was not unheard of for packages to take up to two weeks or even 18 days to reach the customer. Please note that any customs fees, duties, or Canadian taxes are the complete responsibility of the customer.


UPS Ground Shipments:

For shipments using United Parcel Service (UPS), we charge the full, actual shipping rate which is added to the order after order calculation. Please expect up to an extra week delay due to COVID-19 issues. The customer is responsible for all legalities, restrictions, or regulations regarding the merchandise purchased from JapanIncense.com.
Copyright 2023, Japan Incense. All rights reserved.