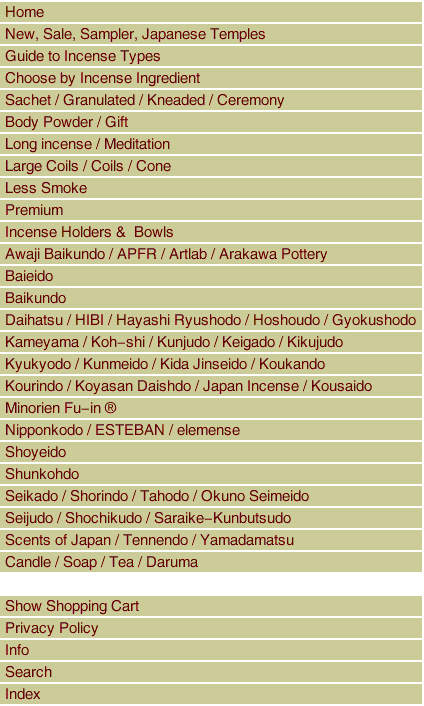 Bamboo Diffuser:

Art Lab's Japanese diffusers are unique in their design and function. Instead of using ordinary round bamboo sticks, this Kyoto-based manufacturer starts with the flat, extremely porous, bamboo wood normally used to create the finest Japanese decorative fans. Then Art Lab refines their selection by choosing only those sticks which have a soft center and a hair-like structure to enhance capillary action. Their final choice is a bamboo that has the ability to absorb large amounts of aromatic oil and then disperse it with remarkable effectiveness due to the stick's very large surface area.

To enhance performance even more, a decorative pattern is cut into each fan stick, yielding still more surface area. The end result is an effective and beautiful diffuser in a compact package.

To activate, remove the lid and place as many (or all six) sticks in the container as desired. The more sticks, the faster the fragrance is absorbed and released into the room. You will notice that within a few hours, much of the fragrance oil will be absorbed into the bamboo sticks, for later release into the air.

Art Lab designed these 50 ml. diffusers for smaller rooms without a lot of fresh air circulation; in large rooms or with windows and doors open, the apparent fragrance is significantly diminished. Art Lab states a typical duration of about 30 days; more or less depending on environment.

Art Lab offers ten different fragrances in the 50 ml. liquid size. With sticks inserted the whole diffuser is about 7 inches tall.

Art Lab also has mini diffusers for even smaller spaces.

Size: Approx. 7" high
Contents: 50ml fragrance oil, 6 bamboo sticks
Fragrant period: approx. 1month



Copyright 2023, Japan Incense. All rights reserved.